Welcome to Alabama Fruitcake…
Original old family treasured recipe being re-introduced after 20 years.  Thousands of pounds made and distributed throughout the world annually from the 1950's until today!
Our History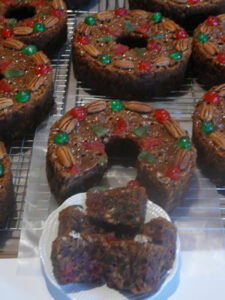 In the early 50's Mae Bruner (gourmet cook) and James Morgan developed the recipe for this delicious fruitcake.  Through word of mouth the cake quickly became a tradition with many southern families and businesses.  James and Mae Bruner Morgan (along with the help of their children) produced thousands of pounds of fruitcake annually.  Cakes were packaged and shipped all over the world on behalf of the corporations and individuals who purchased them for their customers and friends. Once people tasted this fantastic fruitcake they became a customer for life.  Try one today and see for yourself.
Mae Bruner always said that presentation was important to the overall eating enjoyment.  Quality ingredients, attention to detail, and beautiful presentation are all critical elements that lead to the success of this fruitcake.
Making, selling, and shipping fruitcakes was a family business for two months out of the year.  It took every spare moment from Mae Bruner, James and their children during October and November each year.  Cooking started around the 15th of October and ran through the 15th of December, James felt the cakes should age some before eating and consequently around the 15th of December became the cutoff time.
In the mid-1980's, health reasons prohibited Mae Bruner and James from continuing to make these cakes.  Elliott (son) began making these fruitcakes for family and close friends to continue the tradition.  This is the first time since the 1980's that these fruitcakes are available for purchase.
In 1994 Elliott (son of James and Mae Bruner) was in London, England eating at the restaurant in the Alexandra Place Hotel when a casual conversation began with a couple from Florida.  They commented that the only thing they knew of Selma Alabama was that their parents use to purchase a fruitcake from a man there and were no longer able to get them.
To honor the Morgan family tradition and to let others enjoy this wonderful fruitcake, Elliott and his family have decided to produce a limited number of fruitcakes for sale to the public.  These fruitcakes are made the same way as Mae Bruner and James did years ago, still including only quality ingredients and beautifully decorated.
Order now to ensure you get one!  Order confirmations will be emailed to you telling you if your order can be filled.
Featured Items